Amusement Park Accident
An amusement park accident is totally unavoidable. Amusement parks can be a fun exiting way to spend time with your family or friends. No one ever goes there expecting that an injury or death is a possibility but they do happen and can be very scary and unexpected. When they do happen, you need Attorney Lawrence K. Land. He is a lawyer that specializes in severe personal injury law in Virginia and the Eastern Shore. When you are involved in an amusement park accident, you want the best lawyer you can get to handle your case, so contact us today and we can talk more in detail about your situation.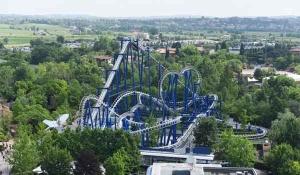 Owners and operators of these amusement parks have a responsibility to maintain the rides and attractions and to ensure the safety of their guests. They are also responsible for injuries that occur as a result of safety violations, operator error, and lacking maintenance of the attractions on their property.  While all amusement parks and carnivals should be complying with the safety inspections schedules and the licensing requirements, many fail to do so and that failure can be responsible for devastating injuries and the grounds for a premises liability case.
If you are a loved one is injured in an amusement park, or carnival, it may be in your best interest to contact experienced injury lawyer, Lawrence K. Land, to handle your amusement park accident case.
Common Causes Of Amusement Park Accidents And Injuries
Inappropriate, inattentive or untrained supervision
Operator error
Mechanical failure
Defective design
Poor maintenance
Malfunctioning restraints
Lack of restraints
Missing safety equipment
An experienced amusement park accident lawyer can conduct an investigation and determine the cause of your accident and injury. Claims relating to amusement park and carnival injuries can be complicated because can involve defective products and premises liability, as well. Attorney Land will work with safety experts and investigators to determine the cause and source of your accident, as well as uncover the training and background of the ride operators and the maintenance records of the park owners.
The amusement park and carnival industry is a very competitive as well as lucrative industry. The American Society for Testing and Materials (ASTM) has published certain standards that apply to amusement park rides and devices.
Attorney Lawrence K. Land, an experienced amusement park accident and injury lawyer, can investigate and determine if the park or carnival has adhered to the standards of the ASTM and what their responsibility was in the accident. Attorney Land represents clients suffering from amusement park injuries which include, but are not limited to, the following injuries:
Broken bones
Brain and spinal cord injury
Back injury
Whiplash
Severe lacerations
Torn ligaments
If you have any of these injuries, an experienced amusement park accident lawyer can get you the maximum compensation. Lawrence K. Land has over 35 years helping injured victims. When you call our office, you will speak directly with Lawrence K. Land. He will provide you with a free no-obligation consultation and evaluation, and is available 24 hours a day, seven days a week and will even come to you. There is no fee until we get money for you. Call us at 757-625-1911, or 1-800-800-1911. If you are on the Eastern Shore, call 757-787-2222. You can also submit our online contact form, or click on the Live Chat pop up on the website to begin immediate communication.
To ensure that our clients get the maximum compensation for their injuries, the law firm of Lawrence K. Land will consult medical specialists, as well as mechanical and industry specialists to ensure that the best information is available to make your case the strongest. He is an experienced amusement park injury lawyer who will work hard to get you the care and compensation you deserve.