Traffic Injury? You Need An Injury Lawyer!
Due to the lack of mass transportation and the large amount of traffic in our area, numerous traffic injuries are occurring every day in Virginia.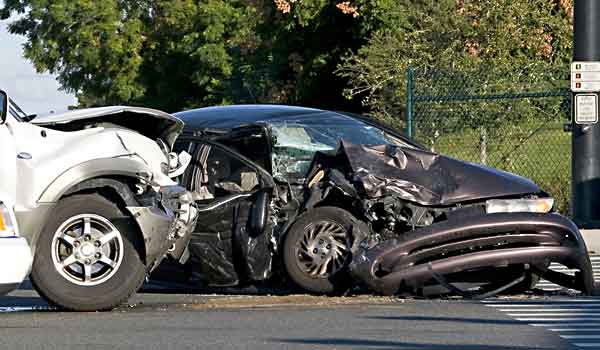 If you are injured in a traffic accident, you will need to provide your insurance company with all the pertinent information about the accident and document your injuries.
You may also want to contact an experienced traffic injury lawyer to help you achieve the maximum compensation for your injuries. Attorney Lawrence K. Land has over 35 years experience helping injured people. We are available 24/7 for free legal advice. Talk to an experienced injury lawyer first. Don't take any action until you know your rights!
Common Car Accident Injuries
Back injury
Neck injury
Broken bones
Internal injuries
Facial injuries
Eye injuries
If you are injured in a traffic accident, you may miss time from work and may be unable to resume your normal day to day activities. The professionals at the office of Attorney Lawrence K. Land understand that you have questions about your insurance claim and about the length of time it will take for you to achieve the maximum amount of compensation. Our legal office can help you with your lost wages and medical documentation and help you navigate the legal world. Attorney Land is an experienced traffic accident lawyer. Contact us to schedule an appointment for a Free legal consultation.
Common Traffic Injury Accidents That May Cause Serious Personal Injury
Motorcycle accident
Bicycle accident
When you have been hurt in a traffic accident, you need a lawyer who has experience with traffic injury victims. An experienced traffic injury lawyer will consider your current and future medical costs as well as your current and future lost wages and pain and suffering caused by your accident. We have over 35 years of experience dealing with insurance companies. We can determine whether or not an offer of compensation is fair and will remain in communication with the insurance company during the course of your accident claim.
When you call our law office, you will speak directly with Attorney Lawrence K. Land. He has over 35 years of experience helping injured people and is available 24 hours a day, 7 days a week. He will even come to you. You can call him for a free, no-obligation consultation and evaluation at 1-757-625-1911, or on the Eastern Shore at 1-757-787-2222, or 1-800-800-1911. You can also submit our form on our website, or email us at injured@lawrenceland.com.
We don't get paid until we get money for you. You've got questions, we've got answers. We will travel anywhere from Maine to Spain, or Boston to Austin, to meet with you. Contact us and let us help you with your accident case!