Pedestrian accidents can be serious and life threatening since pedestrians are no match for a moving vehicle and are very vulnerable to injury. Moving cars and motor vehicles not paying attention to the possible presence of pedestrians, as well as bicycles and motorcycles, can cause injury.
Our law firm is dedicated to helping people and families involved in Virginia Pedestrian Accidents who have been severely injured, or killed. Drivers are required to yield to the right of way to pedestrians who are properly and legally crossing. When a pedestrian is involved in an accident he, or she, is immediately and suddenly faced with numerous questions and concerns.
Children are more particularly vulnerable to pedestrian accidents because they are less likely to be vigilant and more likely to be outside playing, running or walking. Pedestrians are also more likely to be hit during times of less light when they are not as visible such as evening or sunset.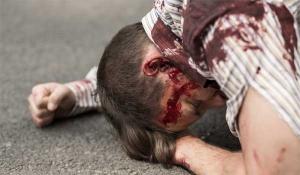 If you or a loved one has been in a pedestrian accident, it is in your best interest to talk to a trusted and experienced pedestrian accident lawyer to discuss your legal options. If you wait too long, witnesses may disappear, evidence may be lost, circumstances may be altered and insurance companies may try to take advantage of you. If you have been involved in a pedestrian accident injury, we take immediate steps to preserve evidence and photograph circumstances and gather all the relevant information for your case. Many times, we are able to negotiate settlements without going to court and without a lawsuit being filed. The law firm of Lawrence K. Land is your best pick for a pedestrian accident injury lawyers in Virginia and The Eastern Shore.
Common Causes Of A Pedestrian Accident
Left- hand turns
Right on red – often times, drivers fail to stop on red and just continue through the light resulting in an accident with a pedestrian
Dark clothes
Turning
Unmarked crosswalks
Inattention
We have represented many pedestrian accident victims and the families of pedestrians in Virginia killed in accidents by motorists. We have the legal experience in personal injury law that is needed to receive a good outcome for our clients.
Bicycle Accidents
The law firm of Lawrence K. Land represents and pedestrians and protects the interests of bicycle accident injury victims who have been injured due to the negligence of others. A staggering number of bicycle accidents occur every year in Virginia and the Eastern Shore, and across the country. Most pedestrian accidents are due to the negligence of motor vehicle drivers.
It is not uncommon for motor vehicle operators not to pay attention to their surroundings and not to look out for cyclists. Many times, cyclists are killed or injured when a motor vehicle operator fails to check their blind spot before changing lanes and who make right turns directly in front of a bicycle. If you have been injured while riding a bicycle, it may be in your best interest to contact a lawyer to discuss your rights.
We hire the best experts to make the best case to get you the maximum compensation for your bicycle accident injury. We work quickly to preserve the evidence and talk to witnesses before they disappear and circumstances become altered. Some bicycle accident injury victims think that they can handle their claim on their own. It is in your best interest to contact a qualified bicycle accident lawyer to help you with your claim so that you can get the maximum compensation and your rights are protected.
Motor vehicle accidents are the most common form of bicycle accidents and happen when a moving vehicle makes contact with a bicycle. Car doors may also be suddenly opened into the travel path of a bicycle resulting in serious injury to the bicyclist.
Common Causes Of Bicycle Accidents
Bicyclist riding on the wrong side of the road, against traffic
Car door opening in front of bicyclist
Bicyclist running a stoplight, or sign
Bicyclist making a dangerous or unpredictable move
Motorist making a right or left turn in front of the bicyclist
Motorist running a stoplight, or sign
If you or a loved one has been involved in a bicycle accident, we would like to help. The law firm of Lawrence K. Land has helped many injured bicyclists receive compensation for their injuries. Our consultation is free and we don't get paid until we get money for you. We understand the devastation that a bicycle accident injury can cause and our office has represented many pedestrians and injured bicyclists in Virginia and the Eastern Shore.
If you or a loved one has been injured in a bicycle accident, please call us at 757-625-1911, or 800-800-1911 or email us at injured@lawrenceland.com. You can also fill out or online request form, or Chat Live with us now by clicking the pop up on our site.
Pedestrian Assault
Some pedestrian assault cases have circumstances that involve them in more of a situation of premise liability. Premises liability injuries are labeled such because they occurred in some premises that another person, or company, had responsibility to manage, and/or maintain, etc., other than the person that was injured. Therefore, there is commonly some question in the pedestrian assault cases of whether an assault occurred due to negligence of the one responsible for the premises. As you can see, it can get complicated – but that is the basic idea. At the law firm of Lawrence K. Land, we handle premise liability cases like amusement park injuries, falling merchandise, parking lot injury, security negligence, slips and falls, and stairway collapses. Give us a call today and let's discuss the details of your situation, and we will steer you in the right direction for resolution.
If you have been involved in a pedestrian assault, contact us now for more information about assault resources. If you are in a life threatening situation right now, please call 911 for police help immediately. We are here to help and you can contact us to discuss your case for free with no obligation. We don't get paid until you get compensation. Call us at 757-625-1911, or 800-800-1911, or fill out our online contact form. You can also click on our Live Chat to have an immediate conversation with our office. You can also email us injured@lawrenceland.com.
We proudly serve all cities in Virginia and the Eastern Shore, including Norfolk, Portsmouth, Virginia Beach, Chesapeake, Suffolk, Hampton, Newport News, Poquoson, Williamsburg, James City County, Franklin, Emporia, Gloucester, Isle of Wight, Tidewater, Hampton Roads, Eastern Shore, Northampton, Accomac, Lightfoot, Matthews, Richmond, Accomack County, Eastville, Exmore, Cape Charles, Nassawadox, Oster, Bayview, Belle Haven, Bloxom, Chincoteague, Hallwood, Keller, Melfa, Onancock, Onley, Painter, Parksley, Saxis, Tangier, and Wachapreague.