Security Negligence
Security negligence is not acceptable, regardless of any circumstances. Many businesses are open evening hours and some are even open 24 hours a day with some operating in high crime areas. Companies are expanding their hours to accommodate more customers. Unfortunately, many crimes occur under the cover of darkness when criminals prefer to come out.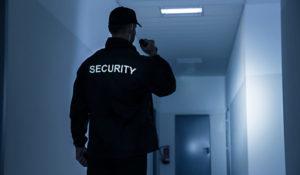 Security and security negligence becomes much more of an issue at night. Many businesses that stay open at night find it necessary to hire a security guard but it is very expensive to hire a guard during the evening hours, as it may be as much as twice the amount as a daytime security guard. That is no excuse for security negligence.
If you or a loved one is injured in a business due to negligent security, it may be in your best interest to contact an injury lawyer experienced in cases of premises liability.
If you have ever entered a business during late evening hours, you many notice that there are usually very few employees working and they may not even be at the checkout counter. If you or a loved one is assaulted or suffers a personal injury at a business where there should have been a security guard on duty, the business may be held liable for failing to protect their employees or customers. It may be in your best interest to talk to an experienced negligent security injury lawyer for a case evaluation. Contact Attorney Lawrence K. Land and let him explain your legal rights.
Businesses have the responsibility to keep their employees and customers safe at all times. A business that fails to do so may be negligent and responsible for any acts that occur which may include criminal acts and burglaries. If you or a loved one has been injured due to negligent security in a business, call Lawrence K. Land for a free no-obligation evaluation and consultation.
Common Situations That Contribute To Security Negligence
Negligent hospital, nightclub, business or bar security
Poor lighting in a parking lot, or parking garage
Break-in of a hotel or motel room
Sexual assault in a stairwell, or elevator
Assault in a stairwell, or elevator
Poor dorm, or college campus, security
If you or a loved one is suffering any kind of injury due to negligent security, it may be in your best interest to contact our law firm for advice. Call personal injury attorney, Lawrence K. Land for a free no-obligation consultation and evaluation. When you call our office, you will speak directly with Lawrence K. Land.
Attorney Land is available 24 hours a day, 7 days a week. He will even come to you. Call 1-757-625-1911 in Virginia and if you are on the Eastern Shore, call 1-757-787-2222. You may also submit the contact request form on our website, or click on the Live Chat popup on our website to talk with us immediately. We don't get paid until we get money for you. You've got questions and we've got answers. Contact us now!