Dog Bite Injury Lawyer In Virginia
If you or someone you know, or love is the victim of a dog bite injury, the law offices of Lawrence K. Land, can help you. Attorney Land has helped numerous dog bite victims recover money for their pain, suffering and medical bills incurred as a result of their dog bite injury.
Hiring an experienced dog bite lawyer is important because the law varies in different areas of Virginia and these cases can be tricky for an inexperienced attorney. It can be tricky to determine who is at fault and if there is coverage. There may be people who live in the neighborhood, or surrounding areas, who have previous knowledge of the dog in question escaping and biting or attacking someone else. An experienced personal injury attorney can conduct a proper, prompt and thorough investigation while memories are fresh and witnesses are still present.
Justice For Dog Bite Victims!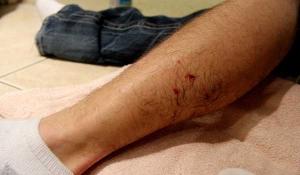 Many dog breeds have vicious propensities and are inherently prone to bite, attack or maul a person. Often, the victim of a dog attack is a child, or an acquaintance or friend, of the dog's owner. Some dogs can be very aggressive and their bites can leave a victim with permanent scarring and horrible deformities. The effects may not only be physical but may be psychological, as well.
The CDC has compiled a list of the top most vicious breeds of dogs. It lists the top most vicious dog breed as being the Pit Bull, followed by the Rottweiler with the German shepherd taking third place.
Types of Dogs That May Be Prone To Cause Severe Bites & Permanent Damage
Pit Bulls
Rottweilers
Akitas
German Shepherds
Presa Canarios
Chow Chows
Alaskan Malamutes
Doberman Pinschers
Great Danes
St. Bernards
Other Breeds
Let us help you get through the complexities of you or a loved one's dog attack injuries. Get the compensation you deserve and protect your rights. Please call us 24 hours a day, seven days a week at 757-625-1911, or toll free at 1-800-800-1911. You can also email us injured@lawrenceland.com, or fill out our online request form, or click on our Live Chat to talk with us right away about your case. We help people suffering from dog bite injuries and we get results.