Medical Malpractice – Death or Paralysis Only!
Medical malpractice claims can be difficult to prove and quite involved. All doctors are held to strict standards to protect their patients through medical procedures regulated by the Virginia Board of Health. When a physician fails to provide an accepted standard of care that is regulated by the Virginia Board of Health, it may be considered medical malpractice.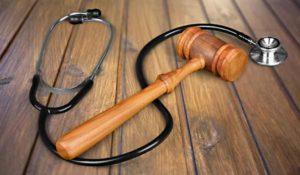 If you or a loved one has been injured by a medical professional and suffered Death or Paralysis, it may be in your best interest to contact a medical malpractice lawyer. Virginia personal injury lawyer, Attorney Lawrence K. Land can help answer all your legal questions. He has been helping seriously injured victims, and families, of medical malpractice for over 35 years.
We ONLY represent clients of medical malpractice in situations of Death or Paralysis!
Some Examples Of Medical Malpractice
Surgical errors
Misdiagnosis
Prescription drug errors
Birth injuries
Delayed treatment
Ineffective treatment
Lack of treatment
Nurse misreads a chart, a medication, or a medication dosage
Medical malpractice cases can be difficult to prove and can be very involved. Several factors must be considered before undertaking a malpractice claim. For example:
Did the medical provider practice the standard of care?
Was there a breach in the standard of care?
Did the breach in the standard of care lead to an injury?
Can the injury be direct cause of the breach in the standard of care?
If someone you love has suffered a Death or Paralysis injury due to medical malpractice, an experienced medical malpractice lawyer may be able to help you attain the maximum compensation for your injury. When you are admitted to the hospital or rushed there by an ambulance, you have the right to the highest standard of care provided professionals who have been properly trained. For financial reasons, most hospitals and medical professionals will not admit to negligent and inappropriate medical treatment and care, even when the negligence is blatantly obvious. In these situation, you may need an experienced injury lawyer. Let Lawrence K. Land, injury lawyer on the Eastern Shore and throughout Virginia, help you or a loved one with your death, or paralysis, medical malpractice case.
Every day, someone is injured by medical negligence. Attorney Lawrence K. Land has been helping injured people for over 35 years. When you call our office, you will speak directly with him, 24 hours a day, 7 days a week. Call for a no-obligation case evaluation and consultation. He will travel from Maine to Spain to meet with you, or from Austin to Boston. Call now at 1-757-625-1911, or on the Eastern Shore at 1-757-787-2222, or toll free at 1-800-800-1911. You can also contact us by submitting the contact form on this website. We don't get paid until we get money for you. You've got questions, we've got answers.