Brain Injury Lawyer
Traumatic Brain Injury, also known as TBI, is caused by a blow to the head and very often is caused by a motor vehicle accident such as a car accident, truck accident, bus accident, or bicycle or motorcycle accident.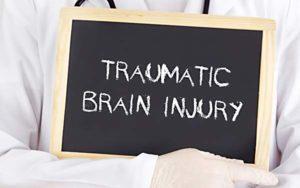 It may also be caused by a fall or a defective product. A traumatic brain injury is life changing and devastating for the victim as well as for loved ones and family.
Traumatic brain injury is often permanent and may cause personality changes as well as cognitive deficits and can lead to financial and emotional stress for the victims and their families. The victim may require physical and occupational therapy, as well as daily living assistance and long term medical care.
Causes of Traumatic Brain Injury
Unsafe playgrounds
Explosions
Toxic chemicals
Auto defects
Workplace machinery
Falls from heights
Electrical accidents
Assaults
Brain injuries may range from very obvious to the difficult to detect. Even if it appears to be a minor accident, there may be subtle personality changes or serious disabilities may develop.
If you, or someone you know, is suffering from headaches, confusion, memory loss, depression or personality changes and have been injured, this may be indication that one is suffering from a traumatic brain injury. When you have such a catastrophic injury, experienced legal advice and representation is crucial. At the law firm of personal injury lawyer, Lawrence K. Land, we will obtain the maximum compensation possible by preparing the strongest case.
Our firm receives the financial compensation for our clients that they deserve including medical bills, lost income, rehabilitation and pain and suffering.
Attorney Lawrence K. Land has been helping clients with brain injuries since 1977. He knows what traumatic brain injury can mean to victims and their families. He will discuss all aspects of your case with you and advise you of your legal options. Our firm would like to help you get the compensation that you deserve. We don't get paid until you receive your money. We can meet you anywhere to discuss your case.
You can contact our office by calling 757-625-1911, or 1-800-800-1911. You can also reach us by email at injured@lawrenceland.com, or complete and submit our online request form. If you prefer to chat online, just click the pop up on our web site to Chat Live now.
We proudly serve all cities in Virginia and the Eastern Shore, including: Norfolk, Portsmouth, Virginia Beach, Chesapeake, Suffolk, Hampton, Newport News, Poquoson, Williamsburg, James City County, Franklin, Emporia, Gloucester, Isle of Wight, Tidewater, Hampton Roads, Eastern Shore, Northampton, Accomac, Lightfoot, Matthews, Richmond, Accomack County, Eastville, Exmore, Cape Charles, Nassawadox, Oster, Bayview, Belle Haven, Bloxom, Chincoteague, Hallwood, Keller, Melfa, Onancock, Onley, Painter, Parksley, Saxis, Tangier, and Wachapreague.