Car Accident Injury Lawyer in Virginia & the Eastern Shore
Attorney Lawrence K. Land is a car accident and motor vehicle accident lawyer, in Virginia and The Eastern Shore, who has represented victims of all types of motor vehicle accidents since the founding of his law firm over 35 years ago. Attorney Land is dedicated to providing his clients with the best legal representation.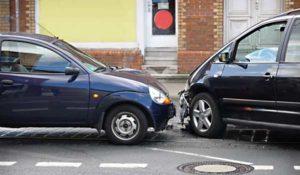 Motor vehicle accident victims who hire a lawyer have a greater chance, statistically, of receiving a better settlement for their motor vehicle accident injury than victims who try to handle their case on their own.
When a driver's negligent behavior or carelessness leads to a car accident, the driver must be held accountable. By getting behind the wheel and operating the vehicle, they are accepting responsibility for themselves and everyone else in their car and on the road.
If you or someone you know has suffered a catastrophic injury, or a life altering change in a motor vehicle accident, Attorney Land and his legal staff are available to discuss the details of your case and review your legal options. Our legal firm has been handling motor vehicle accident injury cases for over 35 years. We offer free consultations and case evaluations for car accident victims and their families and loved ones. Please call us at 1-800-800-1911, or 757-625-1911, or fill out the contact form on this site, or click on the Live Chat to begin an immediate online conversation.
Types of Car Accidents
A motor vehicle, or car accident, is defined as anytime a motor vehicle collides with another vehicle, bicycle, pedestrian, or an object. A motor vehicle can be an automobile, semi -truck, tractor trailer truck, bus, van, motorcycles, delivery trucks, or RVs. The car accident may cause death, personal injury and even damage to property. If you have been injured by a motor vehicle of any kind, consulting an experienced and trusted lawyer as soon as possible after the motor vehicle accident would be beneficial to you. Without the help of a lawyer gathering details for you quickly, witnesses could disappear and evidence could be misplaced. You need an experienced accident lawyer to accurately assess the site of the motor vehicle accident and collect evidence to get you the maximum compensation for your injuries and pain and suffering.
If you or someone you know has been injured in a motor vehicle or car accident anywhere in Virginia, please call Attorney Lawrence K. Land. When you call, you will speak directly with an experienced and caring injury lawyer who has spent over 35 years helping victims in motor vehicle accidents. He will be able to assess the facts of your case and advise you of your rights. Don't put it off. Call Attorney Lawrence K. Land, the experienced and trusted motor vehicle accident lawyer, 24 hours a day, seven days a week at 757-625-1911, or 1-800-800-1911. On the Eastern Shore, call him at 757-787-2222 for a free consultation. He knows that it may not be easy or convenient for you to come to his office, so he will come to you, anywhere from Maine to Spain.
You may also fill out and submit the contact form on our website, or click on the Chat Now pop up on our website. Email is another option to reach our office at injured@lawrenceland.com.
Car Accident Injury Lawyer in Virginia & The Eastern Shore
Serious car accidents are happening every day and are a common cause of debilitating injuries and death. Have you or someone you know been injured in a car accident at the fault of another? Virginia accident lawyer, Lawrence K. Land has been helping car accident injury victims since 1977. He works hard to get compensation for his clients.
When you are injured in a car accident, you need the best lawyer to get the maximum compensation that you deserve. You need someone with experience on their side. You have questions, Attorney Land has answers. You have problems, he will solve them. You need to have your legal case evaluated as soon as possible. Attorney Land will give you a free, no obligation, confidential consultation with up front advice and straight talk about your car accident injury. He will answer your questions and explain your legal rights. He will direct a course of action for you to take to get your life back on the right path.
If you have sustained a car accident injury, you may also be struggling with car repairs and lost wages. As a car accident injury victim, you may be on a course of confusion and fear about your future and the consequences from your accident. We can provide the support and guidance you need to obtain a fair compensation for your heavy losses. We can give you advice with your property damage, lost wages and medical payments coverage, as well as guide you with your mounting paperwork. You may need money for medical injuries and car repairs and an experienced car accident injury lawyer can help with all these things.
In our lifetime, most of us may be involved with an accident. As careful and safe as we may be, a car accident is still tough to avoid.
Tips To Avoid A Car Accident
The 3 second rule to keep a safe distance. Always allow enough time to stop should the car in front of you brake suddenly. Stay at least three seconds behind the car in front of you.
Be well rested. Driving while fatiqued can be very dangerous. If you are having trouble staying awake, pull over immediately.
Never drive under the influence. Even cold medicines can impair you. You should never drive if you have consumed alcohol or drugs.
Don't speed. The highway posts the safest speed for the road that you are travelling. You may need to go below that if the traffic is heavy or road conditions are not favorable.
Stay alert and focused. Do not text or make calls or watch your GPS. Always watch the road!
If you or someone you know has been involved in a car accident through no fault of their own, please call Attorney Lawrence K. Land, the car accident injury lawyer at 757-625-1911, or toll free at 1-800-800-1911, 24 hours a day, 7 days a week. We will come to you. We don't get paid until we get money for you. The consultation is free. You can also email us at injured@lawrenceland.com or fill out our Contact Request Form on this website. If you prefer, click our Live Chat button on our site.
Head-On Collision Accident Lawyer
Head-on collisions are probably the most violent collisions. The speed of each vehicle that collides from opposite directions is combined, so the combined speed may exceed 90 miles per hour. The force can cause death and serious injuries along with serious property damage. If you or someone you love has been injured in a head on collision, it may be helpful to hire an experienced head-on collision accident lawyer.
Head-on collisions occur in different ways. They may occur when one driver crosses the line, trying to pass a slower driver or when one driver crosses into the lane of oncoming traffic while going around a curve, or driving straight.
Some Possible Causes Of Head-On Collisions
Road rage
Weather
Turning into oncoming traffic
Distracted drivers and distracted driving
Hazards in the road
Turning into oncoming traffic
Reckless driving
Disregarding traffic signals and signs
Poor visibility
If you are involved in any of these types of accidents, a head-on collision accident lawyer may be helpful. Attorney Land has over 35 years working with cases of severe personal injury and he can help you get the maximum compensation for your injuries.
Common Head-On Collision Injuries
Back injury
Neck injury
Traumatic Brain Injury (TBI)
Spinal injury and spinal cord injury
Brain injury and head injury
Broken bones
Airbag injuries
Internal injuries
Nerve damage
Whiplash
Concussions
Dental injuries
Facial injuries
Some brain injuries are not obvious until hours or days after an accident but may be very serious. If you have been injured in an accident, seek medical attention immediately. An experienced Head-On Collision Accident Lawyer can help you navigate the confusing legal world during the aftermath of an accident.
When you call our office, you will speak directly with Attorney Lawrence K. Land. He will start an immediate investigation and documentation of your accident and will take pictures to preserve the scene before evidence is lost or destroyed. He will also interview witnesses before they move or disappear. By conducting a thorough investigation, he will help you receive maximum compensation. It may be in your best interest to get the advice of a Head-On Collision Accident Lawyer.
Attorney is available to answer questions and give you a free no-obligation evaluation and consultation on your case, 24 hours a day, 7 days a week. He will come meet you anywhere you need. Call him at 757-625-1911, or on the Eastern Shore at 757-787-2222. He does not get paid until he gets money for you. You can also contact us by submitting our online form, or clicking on the Chat Now popup on our site. If you have questions, Attorney Land has answers.