Workplace Death Injury Lawyer
Workplace death is a nightmare for any family. Losing someone you love is always difficult. Losing someone who is also the financial supporter for you and your children is even more difficult. Every year, many workers are severely injured or killed while on the job.
Common Workplace Injuries
Most of workplace injuries are caused by the following:
Overexertion from lifting, pushing, pulling, carrying and holding injuries
Struck by a flying or moving object
Falling to lower level or falling without proper guardrail
Injury from body reactions such as bending, climbing, reaching, standing, sitting and slipping or tripping without falling
Tripping on an object, or falling on same level
Highway accidents
Violence in the workplace
Workplace Death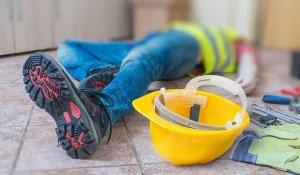 If you, or someone you love, has been killed in a workplace accident, it may be helpful to contact a lawyer specialized in injury law for a case evaluation and consultation. Virginia injury lawyer, Attorney Lawrence K. Land is an experienced workplace death injury lawyer who is committed to protecting the rights of families and children who have lost a loved one in a workplace accident. He can assist with the legal concerns of families of the victims and will work hard to get them the maximum compensation for their loved one's injuries or loss. Attorney Land believes that every worker should be able to arrive home safely from the job every day. Employers who cut back on worker safety and place unsafe equipment in the workplace need to be held responsible. Workplace death is unacceptable and those responsible should pay.
Workers' compensation may only apply to the employer and does not release manufacturers or subcontractors from responsibility. Our workplace death injury lawyer will conduct a complete and thorough investigation to document and photograph the scene and interview the witnesses before the scene is tampered with and witnesses disappear or move. When you call our legal office, you will speak directly with Attorney Lawrence K. Land.
Call our workplace death injury lawyer if you or a loved one has been injured or killed in the workplace. We offer you a free, no-obligation consultation and case evaluation. We do not get paid until we gets money for you. Call 757-625-1911, or toll-free at 1-800-800-1911. On the Eastern Shore, call 757-787-2222. You can also contact our office by submitting our online contact form, or by clicking on the Chat Now pop up on our website. We will go anywhere from Maine to Spain to meet with you. If you have questions, he has answers. Call Virginia injury lawyer, Lawrence K. Land and let him go to work for you.