Trampoline Injury Compensation
Every day, children and adults are flocking to the trampoline parks that have sprouted up all over the country. Parents drop their kids off for birthday parties and the kids play, unsupervised, for hours. No one talks about the huge risk and the severe injuries that occur at these trampoline parks. Given these trampoline parks dismal safety record, and the high risk of a trampoline injury occurring, it is surprising that so many parents leave their children there with minimal supervision.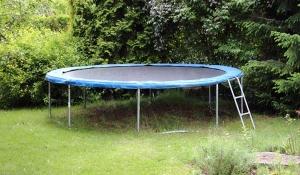 Pediatricians are voicing the dangers and warning parents to keep their kids away from trampolines and trampoline parks. Trampoline injuries from just sprains and strains to broken bones to catastrophic injuries and death have all occurred at these trampoline parks. The American Academy of Pediatrics advises that no children should play on trampolines, and further, that trampolines should only be used for training programs and certain sports and only under the supervision of a trained adult because of the possibility of a serious trampoline injury.
Even though the parks require customers to sign waivers before jumping, absolving them of liability, families of those suffering from a trampoline injury are suing. Whether or not you sign a waiver, you still have the right to expect that the facility will do its best to prevent a trampoline injury.
Trampolines can also be found in private backyards. In this case, the owner is responsible for people's safety on the trampoline and they are obligated to do everything possible to prevent a trampoline injury on their premises. The owner must provide warning and supervision to those using their trampoline. If the netting is torn, you must warn the users or prevent them from using the trampoline until it is repaired.
If you, or someone you know, has suffered from a trampoline injury or were involved in a trampoline park injury, please contact us for free legal advice. Attorney Lawrence K. Land will speak directly with you and give you a no obligation legal consultation. He has been helping injured people for over 35 years. He is available 24 hours a day, 7 days a week and can come to you. Call us at 757-625-1911, or toll free at 800-800-1911. You can also email us at injured@lawrenceland.com, or fill out the contact request form on this website, or click the Live Chat pop up to talk with us immediately.
We do not get paid until we get money for you. We are your best pick for a Trampoline Injury Lawyer in Virginia and Eastern Shore.
We proudly serve the following cities in Virginia and Eastern Shore and will travel anywhere in Virginia, and many times even across the United States to help accident victims. Our service areas in Virginia include: Norfolk, Portsmouth, Virginia Beach, Chesapeake, Suffolk, Hampton, Newport News, Poquoson, Williamsburg, James City County, Franklin, Emporia, Gloucester, Isle of Wight, Tidewater, Hampton Roads, Eastern Shore, Northampton, Accomac, Lightfoot, Matthews, Richmond, Accomack County, Eastville, Exmore, Cape Charles, Nassawadox, Oster, Bayview, Belle Haven, Bloxom, Chincoteague, Hallwood, Keller, Melfa, Onancock, Onley, Painter, Parksley, Saxis, Tangier, and Wachapreague.
If you have got a legal problem, Attorney Lawrence Land will solve it!