Parking Lot Injury, Or Parking Lot Accident, In Parking Garage
Parking lot injury claims are an issue of premises liability and are quite common in today's society. Parking garages can pose a very dangerous risk for many people and may be full of dangerous hazards. If a parking garage is dimly lit, just getting out of your car could prove to be hazardous. Since they are not public property, they may be poorly maintained and unregulated.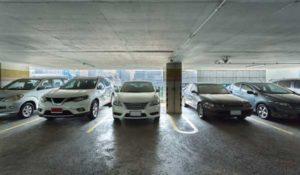 If you are involved in a parking lot injury, or parking garage accident, you may need to contact an accident lawyer specialized in handling cases of premises liability to ensure that your rights are protected.
We understand that someone could be seriously and suddenly injured in a parking lot or parking garage. A motor vehicle could quickly maneuver in or out of a parking space and not notice a pedestrian or someone exiting their car. Because there a no traffic lights or traffic controls in a lot or a garage, many drivers believe that anything goes and may take risks that they would not take on a public street. Attorney Lawrence K. Land understands these risks and would be happy to speak to you about your case and give you a free legal evaluation.
Parking lot injury and similar types of accidents have continued to increase over the years as more parking garages have been constructed to accommodate the parking needs in urban areas. In these areas, property is very valuable and garages can accommodate more cars in the same amount of space that lots require. With this increase in garages, the increase in pedestrians getting hit or run over in them increases. If you, or a loved one, has been injured in a parking lot injury or parking garage injury, it may be in your best interest to contact an experienced accident lawyer.
Different Kinds Of Parking Lot Injury & Parking Garage Injury
Pedestrian may get backed over
Pedestrian may slip and fall on snow or ice in the parking lot
Uneven pavement or potholes which may cause pedestrians to fall
Poor lighting causing pedestrian falls
Muggings and assaults
Car hitting a pedestrian
Car rear-ending another car
Car hitting a bike, or motorcycle
If you or someone you love has been involved in a parking lot accident or parking garage accident, an experienced parking lot or parking garage accident lawyer can help you get maximum compensation.
Things That Can Cause Or Contribute To Parking Lot, Or Parking Garage Injuries
Poor maintenance of the parking lot, or parking garage
Inadequate lighting
Poor maintenance or construction of stairwells, or sidewalks
Lack of traffic signals, or signs
Poor pavement makings
Inadequate traffic patterns
Poor security, or security negligence
Poor visibility due to poor design, or construction
When you call our law office, you will speak directly with Lawrence K. Land for a free no obligation consultation and case evaluation. We are available 24 hours a day, 7 days a week. We will even come to you. Call us at 1-757-625-1911 or, if you are on the Eastern Shore, call 1-757-787-2222. You can also submit the contact request form on our website, or click on the Live Chat pop up to contact us. If you have questions, we have answers. Contact Attorney Lawrence K. Land for free legal advice. He has been helping injured people in the Eastern Shore and throughout Virginia for over 35 years.