Stairway Collapse and Stairway Accident
Stairway collapse and stairway accidents commonly result in severe personal injury, or death. Stairways that are not properly maintained and repaired, or not well constructed, can collapse or break and cause serious and permanent injuries.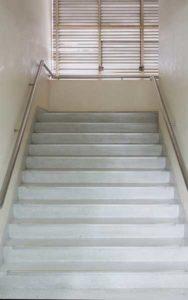 If a stairway accident occurred because of the owner's failure to maintain the stairway or because of poor construction, then the property owner may be liable for you are a loved one's injuries. Cases where a property owner may be liable for a victim's injuries fall into the legal realm of premises liability. It may be in your best interest to contact an injury lawyer experienced in cases specializing in premises liability to know your rights.
Virginia accident lawyer, Attorney Lawrence K. Land has been practicing injury law for over 35 years and has handled many premises liability cases. Since stairways and stairwells are common areas on a property, they need to be repaired and safely maintained by the property owner. If the property owner fails to maintain the stairs and to keep them safe, and you or someone you love, is injured on them, the property owner may be liable. An experienced stairway accident lawyer can evaluate and investigate your case to determine who is at fault.
Common Stairway Accident & Stairway Collapse Injuries
Injuries from a stairway collapse can range from soft tissue types of injuries to death. Common injuries from broken stairways and stairway collapse may be as follows:
Broken bones
Skull fractures
Skull fractures
Facial cuts and bruising
Tooth loss, or damage
Broken nose
Fractured pelvis
Neck injury
Paraplegia
Quadriplegia
Severe eye injuries, including blindness
Soft tissue injuries
Attorney Lawrence K. Land is an experienced injury lawyer that will pursue the maximum compensation for your injuries if you fell down stairs, tripped or suffered a stairway injury because of improper maintenance or disrepair, or if you fell due to a collapsed stairway.
Common Conditions Of Poorly Constructed, Or Poorly Maintained Stairway
Unsafe, or inoperable, fire escape
Torn carpeting on stairs or loose carpeting
Slippery steps like wet tile or marble
Improper lighting
Loose, missing or broken handrails
Code violation
Broken stairs, or rotted, missing or loose stepping
Lawrence K. Land is a stairway accident lawyer and stairway collapse lawyer who will work hard to get you the maximum compensation for your injuries, lost wages, future medical care and lost income, and pain and suffering. Call him for a free no-obligation evaluation and consultation. He will even come to you.
Virginia accident Attorney, Lawrence K. Land, will conduct a thorough investigation and evaluate your case and, if needed, hire experts on construction and maintenance. You can reach him at 1-757-625-1911, or toll free at 1-800-800-1911. On the Eastern Shore, you can call 757-787-2222. You can also submit a request for contact on this site or click on the Live Chat pop up window. You have questions and Lawrence K. Land has answers. Give him a call today!