Motorcycle Accident Lawyer In Virginia
Thousands of people are killed every year in Motorcycle Accident injuries. Due to their small size and lack of barriers, motorcycles are no match for cars and trucks in an accident. Because of the mild climate in Virginia, we are a motorcycle enthusiast's dream of paradise where they can enjoy our beautiful green roads and mild temperatures. Even a vigilant driver can be run down on motorcycle in a quick second.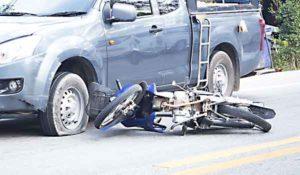 Motorcyclists need to be hyper-vigilant when operating their motorcycle, especially at intersections where vehicles are not paying attention and turn into the path of a motorcyclist.
If you, or a loved one, has been involved in a motorcycle accident injury, or death, call the law office of Lawrence K. Land for a free, no obligation consultation. Want the best personal injury lawyer in Virginia and The Eastern Shore? Contact us today. You will be represented by an experienced and trusted lawyer with over 35 years experience in motorcycle accidents. Since people in motorcycle accidents are much more likely to sustain greater injuries, it is important to have an experienced and aggressive lawyer working for you to get you the maximum compensation that you deserve. Attorney will go to work for you immediately collecting witness statements, taking pictures of the motorcycle accident scene and preserving evidence.
If You Cannot Come To Us, We Will Come To You
Are you in the hospital or in bed at home due to a motorcycle accident injury? Has your bike been destroyed and you are out of work? Are you facing insurmountable medical bills? When you are down, you need the protection of an advocate to get to work for you and protect your legal rights and help you get your life back on course.
Virginia accident lawyer, Attorney Land, will speak to you personally and will be the one to handle your motorcycle accident injury case. He can help you get the maximum compensation for your injuries and may be able to locate insurance money that you never realized was available to you. He is available to discuss your case with you and give you a free no obligation evaluation and consultation. He will even come to you anywhere. He receives no money until he gets money for you.
Call Lawrence K. Land at 1-757-625-1911, or 1-800-800-1911. If you are on the Eastern Shore, call 1-757-787-2222. If you prefer, you can submit the contact request form on this website, or click on the Chat Live popup to talk to us immediately. If you have questions, Attorney Land has answers.