Slip and Fall Injury Lawyer in Virginia and The Eastern Shore
A Slip and Fall Injury can cause severe injury and even death. There are several different kinds of slip and fall accidents that require an experienced accident lawyer like Virginia personal injury Attorney Lawrence K. Land.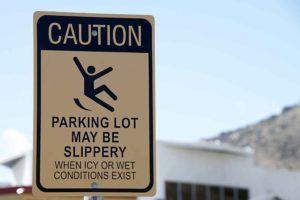 Slip and fall accident injuries can caused by slippery floors, wet floors, broken steps, broken sidewalks, icy floors, uneven elevators and more. A lawyer experienced in cases involving slip and fall injuries can help you determine whether or not a landlord or property owner is a fault for your injuries.
Attorney Lawrence K. Land is an experienced slip and fall accident lawyer and is well versed in all types of slip and fall injures. He will send a photographer to the scene of the accident to document and record the scene before the landscape has been altered or destroyed. He will also talk to witnesses and complete an investigation to ensure that his client gets the maximum compensation for their injuries.
Big businesses and small businesses are not above altering the scene and the landscape after a slip and fall accident It is important for an experienced slip and fall lawyer to get involved immediately following the accident to preserve the integrity of the scene and to secure the witnesses and gather evidence before anyone has tampered with the evidence or the witnesses have disappeared or moved away.
Lawrence K. Land is a trusted and experienced slip and fall lawyer who has been helping injured clients for over 35 years. He knows how to investigate and put a case together so that he is able to get you the maximum compensation for your slip and fall injuries. He will fight to make sure you receive the maximum amount that you deserve as well as any future expenses that you may incur for medical bills or lost income.
If you or a loved one has been injured in a slip and fall injury, you need an experienced accident lawyer to get you the maximum compensation that you deserve. With over 35 years of experience, the law firm of Lawrence K. Land has been helping clients get the maximum compensation for their injuries. When you call our law office, you will speak directly with Attorney Land and he will give you a free, no-obligation case evaluation and consultation.
We can be reached, 24 hours a day, 7 days a week at 1-757-625-1911, or call us toll free at 1-800-800-1911. If you are on the Eastern Shore, call us at 1-757-787-2222. You may also submit the contact request form on our website, or click on the Live Chat pop up on our website for immediate contact. Let Virginia personal injury lawyer, Lawrence K. Land go to work to help you with your slip and fall injury case.