When we hear about a truck accident, many times it is serious and fatal. Truck drivers are often on a tight schedule and spend a lot of hours on the road with very little sleep. Cars are no match for a semi- truck in an accident. Large commercial trucks can weigh up to twenty times more than a passenger car insuring that they will pulverize a smaller vehicle in a truck accident.
Victims of a truck accident are likely to be killed or suffer catastrophic injuries such as brain injuries, spinal injuries, and loss of limbs.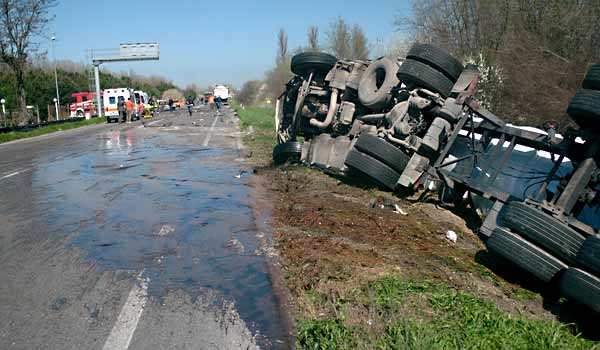 Accident lawyer, Lawrence K. Land has over 35 years of representing clients who have been injured in truck accidents in Virginia and the Eastern Shore. Some of his biggest cases have involved truck accidents and he is dedicated to providing the his clients with the best representation and administration of justice that is available.
Truck Accident Causes – Tractor Trailer & Semi-Truck Accidents
Trucks following too closely and, or tailing the car in front of them
Speeding
Driver exhaustion and fatigue
Drug use
Failure to follow signs or road rules
Failure to care for and provide maintenance on the trucks
Cargo shifting
Over-sized or too heavy cargo loads
Tire pressure low
Driver, or pilot error
Trucks too high and going under a bridge
Other truck accidents
Chemical truck accidents
Chemicals seeping in the ground and contaminating water
Explosions caused by the highly flammable chemicals that are being transported
Burns and other physical problems caused by chemical exposure
Some trucking companies are also purchasing GPS systems that are only meant for consumers and not truckers. Therefore, do not consider the size and weight of the truck when deciding the safest route. Trucks using consumer GPS systems are more likely to be involved in a truck accident where the bridge or overpass is inadequate.
If you, or someone you know, is involved in a semi truck or tractor trailer accident, please call experienced accident lawyer, Lawrence K. Land and let him help you. He represents injured clients on a contingency basis which means you do not pay an attorney's fee until he gets money for you. Please call us at 757-625-1911, or 1-800-800-1911. You can also fill out and submit our online request form, send a general email to injured@lawrenceland.com, or Chat Live with us now.